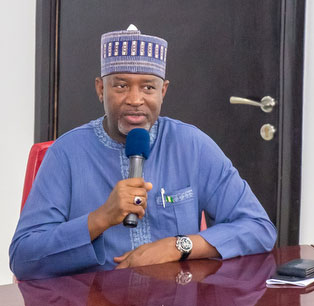 Minister of State, Aviation, Sen. Hadi Sirika
Following the temporary suspension of the national carrier, Nigeria Air, by the Federal Government, the Minister of State for Aviation, Senator Hadi Abubakar Sirika has absolved himself of any shady deal saying he could not be accused of any financial misappropriation.
In his presentation at the 5th Aviation Stakeholders' Forum held yesterday at the Nigeria Air Force Conference Centre, Abuja, Sirika who is at the centre of the Nigeria Air project said all due processes in the project were duly followed, stating that he would not allow his name, reputation and profession to be in disrepute in the best interest of this country.
To affirm his commitment to the country, Sirika swore in the name of Allah before the over 300 stakeholders that he could not be accused of any financial misappropriation in any form.
"I swear in the name of Allah that I cannot be held for any financial misappropriation. I cherish my family name and will not allow it to be dragged in the mud, my profession cannot be tarnished by any means."
He said the current efforts to establish a National Carrier predates the present Federal Executive Council and Nigeria deserves a National Carrier for its many benefits. "The Ministry is implementing the project in a very open and transparent manner in conjunction with relevant stakeholders. Apart from commitments in respect of transaction advisory services, branding and participation at Farnborough Air show, no other expenditure has been incurred on the Nigeria Air Project," he said
He also told the aviation stakeholders comprising relevant committees of the National Assembly, Domestic and Foreign Airline Operators, industry experts and players, labour unions, media and other aviation bodies that the Ministry of Transportation has recorded significant achievements in virtually all aspects of the aviation sector in the past three years.
These achievements according to him included: "Growing and Sustaining the Domestic Aviation Industry; re-introduction of zero import duties on aircraft, engine and introduction of same for spare parts; removal of Value Added Tax (VAT) from all shared transportation including commercial flights; intervened to rescue Arik Air and Aero Contractors from total collapse. Both are currently in operation but under receivership; government recently commenced the payment of severance/retirement benefits to former staff of defunct Nigeria Airways.
The minister also said the ministry "ensured a safe and competitive aviation industry resulting in the growth of the industry. The sector recorded an average growth of 33% on domestic operations and 13.5% on international operations between January, 2017 and June, 2018.
" It provided the enabling environment for domestic airlines in the country to attain certification in IATA Operational Safety Audit (IOSA). Currently five Nigerian domestic airlines have Certification.
"Regulation and Compliance with International Standards?Certification of Murtala Muhammed International Airport, (MMIA) Ikeja, Lagos in April, 2017 and Nnamdi Azikiwe International Airport, Abuja in November, 2017. The first ever Airport certification in Nigeria.