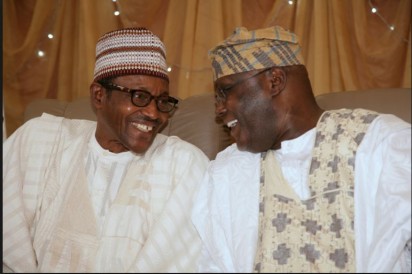 Buhari and Atiku President Muhammadu Buhari has accepted his nomination by his All Progressives Congress APC to again fly its ticket in next year's presidential elections, assuring that with his accomplishments, victory was sure.
In his acceptance speech at the end of a special national convention which began on Saturday and ended Sunday morning in Abuja, the president also thanked other presidential aspirants in the party who deferred to him by not contesting.
"The result of the presidential primaries of the All Progressives Congress this time is different because I am the only candidate. I thank all other eligible candidates who deferred to me in the interest of our party unity and over-all national stability", he said.
The president also spoke of his multi-sectoral accomplishments saying while he has been able to bring succour to Nigerians, the international community now has greater confidence in his leadership of the country.
"We are very proud of our record from 2015 to date: We have arrested and checked the slide to anarchy on the security and economic fronts. Boko Haram is reduced to dastardly attacks on soft targets. Normalcy has returned to much of North East and neighbouring North West states. Our currency has stabilised. Our reserves are now $44 billion, a lot higher than we had in 2015. Power generation capacity has reached 8,000 megawatts against less than 4,600 when we came into office. As we invest in new power generation infrastructure we are strenuously working to address the legacy deficiencies and challenges of transmission and distribution networks across the country. We are executing Independent Power Projects in 9 Federal Universities to deliver uninterrupted power supply and we intend to expand to a total of 37 Universities.
"We have revived most of our capacity to produce fertilisers locally. The Government through its Anchor Borrowers Programme and other incentives has empowered more than 2 million farmers to go back to the land. We now produce 80% of our rice requirements. Many farmers who nearly lost hope are now millionaires. We have introduced primary school feeding programmes to encourage attendance and enrolment. We also have introduced the conditional cash transfer to help small and medium businesses, the men, the women and young people who drive our economy. We have repaired and are repairing major arterial roads and starting major railway projects with the aim of linking the 36 states with efficient road and rail transportation systems. We are attacking corruption head-on. With international support we are recovering Nigerian stolen assets and applying them to infrastructural developments. Today the corrupt are facing the wrath of law and leakages have been generally blocked.
"Mr. Chairman, Your Excellencies, Members of the APC. We can be proud of our achievements. Change has come. Ladies and Gentlemen, fellow Nigerians, think how much PDP Governments earned between 1999 to 2015. Think what they did with it. Infrastructure down! Security down! 18 local governments of Nigeria under control of a hostile army of insurgents, Reserves depleted! Bankruptcy around the corner. What did they do with your money?
"Internationally, Nigeria is now respected. My inter-action with foreign heads of state and government has been very encouraging. The international community is very supportive of our efforts to put our country in order. Ladies and gentlemen, Members of APC. I thank you deeply for your support and confidence in me. I will not let you or the people of Nigeria down. On to victory in 2019!", he declared.
Polls 14.8m votes
In affirming President Buhari's candidacy, the Returning Officer for the presidential primaries which held on September 28 across the federation, Dr Kayode Fayemi said Buhari polled 14, 842, 072 million votes.
According to him, "that gives you a pointer to what we are going to have in the 2019 elections. This is the registered votes of the registered members of our party. We are not talking about other Nigerians who will vote for the president in the general elections", he said.
Fayemi said the name of the president would now be forwarded to the Independent National Electoral Commission INEC as the candidate of the party.
Buhari too mild with opposition
In his speech, National Chairman of the party, Comrade Adams Oshiomhole accused the president of being too mild with the opposition, saying while the APC was in the opposition, the then ruling PDP deployed the machineries of public office to intimidate them at will.
He was quick to however concede that the president needed not copy the evil styles of his predecessors.
"But let me remind the opposition when they accuse us of abusing federal powers. Mr President, if there is any complaint among APC leaders, it is that Mr President has been extremely mild. Even myself, sometimes I feel Mr President is too mild compared to what we went through. Mr President, as a sitting governor in Edo state, I was denied the use of a federal airport. I went to the airport, I could not fly. My brother from Rivers state… a Commissioner of Police blocked him and detained him in Government House and said he could not leave the Government House. Mr President, your predecessor, the former president used seven people to impeach a sitting governor in Bayelsa. Seven people to impeach a governor in Plateau state. Even myself, I was to be impeached. I had to remove the roof of the House of Assembly to survive. My brother in Rivers, he was to be impeached…he had to do battle and fight like a thug but I know he is a gentleman because he is a Catholic but he was almost turned to what he is not. They fought us, they harassed us, they intimidated us and they charged us for no reason. But Mr President, tough times don't last, tough people do. That is why we are standing. I am not about to suggest that you should copy them. We cannot copy people who have no character. You must resist the temptation, even the pressure from some of us who feel that you are mild. I think that, that is the price of leadership but I need to remind them that they laid the foundation for do or die politics. It is PDP that had a president who told Nigerians, and it is on record, that elections were a do or die. Mr President, you have never said anything like that. So, when they talk the way they do, you wonder if they have forgotten their past", he said.
Govs must pay salaries and pension
"Wages are not paid out of pity. He who must employ has obligation to pay. I am happy you have provided bail out to states and have on each occasion encouraged them to pay salaries and pension. I will like to encourage all our state governments to pay salaries and pension when they get those occasional handouts whether they are bailouts or Paris Club refund. It is important that people see the difference between progressive governors and conservative governors. That they are doing it cannot be an excuse for us to do same".
We're ready for the campaigns, APC tells PDP
"My last word is to the opposition. We are ready after today's convention for the 2019 electioneering campaigns and we believe we have a lot to sell to Nigerians. I cannot wait for the campaigns to begin. Our opponents are going to produce their candidates and we will look at their records. If they are former governors, we will go to their states; and we will go to their people to show us the evidence of what they have done in their states because if you cannot manage your house, you cannot manage a community. If you cannot manage a community, you cannot manage a state. If you failed as a state governor, you cannot possibly win as a president. We will stick to those records, we will look at their arguments, we will look at their background and we will compare them to your own, Mr President and the Nigerian people will decide. It is not time for hypocrisy. It will be 'eyemark' not 'earmark'. If you say you will put air conditioners all over Nigeria, we will find out how many air conditioners exist in your own state. So, Mr President, I am sure you are ready. I am ready, NWC is ready and I believe that party leaders and members across the nation are ready for the campaigns. We will challenge them on their backgrounds; we will challenge them with their records, we will challenge them fact to fact, figure to figure and Nigerians will decide. This election will not be based on tribalism or religion. It will be based on issues, on track records and personal integrity of those who are contesting. Mr President, I cannot wait for us to begin", said Oshiomhole.